PROJECTIONS: INTERNAL LATENT / EXHIBITION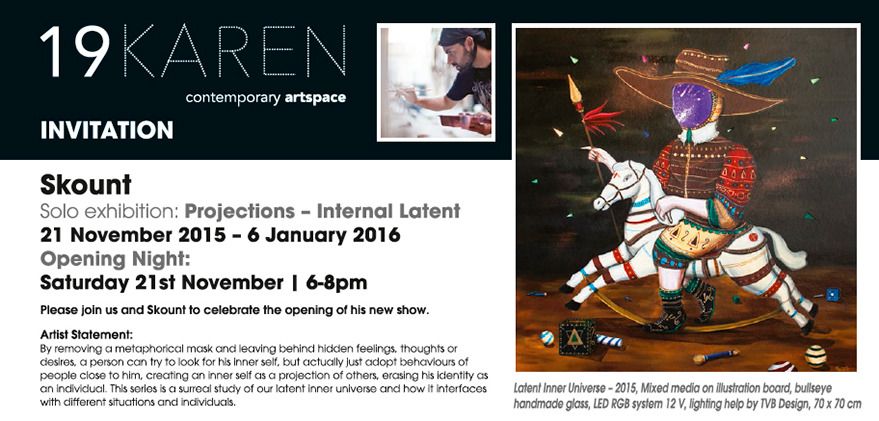 Last 21st of november was the opening of my solo show
"Projections: Internal Latent"
at
19Karen contemporary art gallery
in Gold Coast, Australia
For this I worked on a video and
15 new mixed-media paintings including ones with Bullseye handmade glass collage and LED lights.
The exhibition still runining until 6 January 2016
For this time, Skount with "Projection:
Internal latent
" presents, through his artworks inspired in the classic theater, deities, ornamentations from different cultures and
aesthetics from VXII century
, a metaphorical seeking for the inner self of our existence; our roots, identity, and afterlight.
How by removing a metaphorical mask and by leaving behind hidden feelings, thoughts or desires, the person can try to look for his inner self, adopting behaviors of other people close to him. This creates an inner self as a projection of other people or a fusion of our inner universe with each person that is part of our life.
This kind of seeking erases our identity as individual people and generates a collective identity influenced by the people or society that surrounds us, adopting a role of conduct, feelings, thoughts and shared emotions that redraws our inner self.
This new series of artworks is a surreal study of our latent inner universe and how it interfaces with different situations and individuals.