The great & amazing art on paper exhibition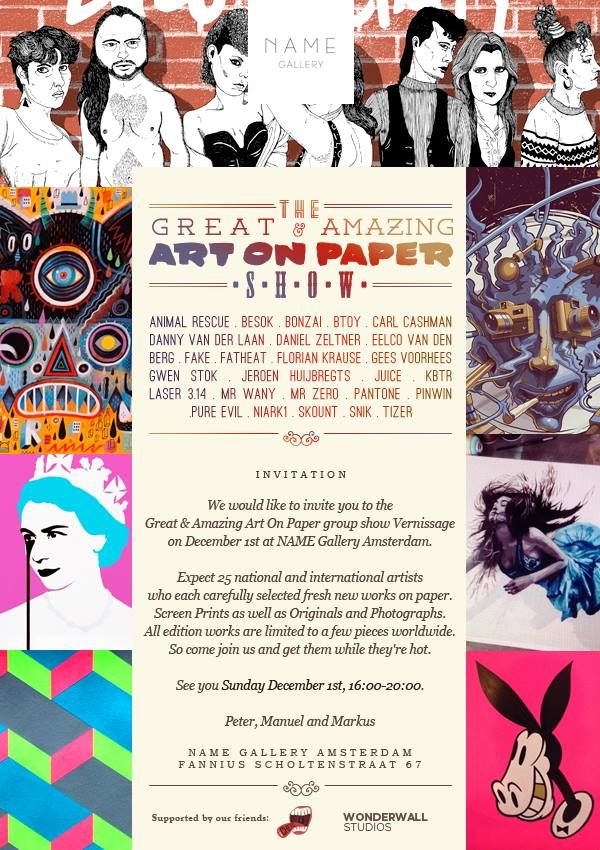 I am glad to anounce my participation at the group exhibition "The great & Amazing art on paper show" at
NAME Gallery
in Amsterdam.
Opening reception: 01-12-13 from 15:00 to 20:00
Name Gallery: Fannius Scholtenstraat 67, 1051 EV Amsterdam
Expect 25 international artist who each carefully selected fresh new works on paper. Screen prints as well as originals and photography. All edition works are limited to just a few pieces worldwide. So como to join us and get them while they´re hot.
Participating artists are: Animal rescue, Besok, Btoy, Carl Cashman, Danny van der Laan, Danzel, Eelco van den Berg, Fatheat, Fake, Florian Krause, Gees Voorhees, Gwen Stok, Jeroen Huijbregts, Juice, KBTR, Laser 3.14, Mr Wany, Mr Zero, PantOne, Pinwin, Pure Evil, Niark1, Skount, Snik, Tizer
If you are around dont miss it!