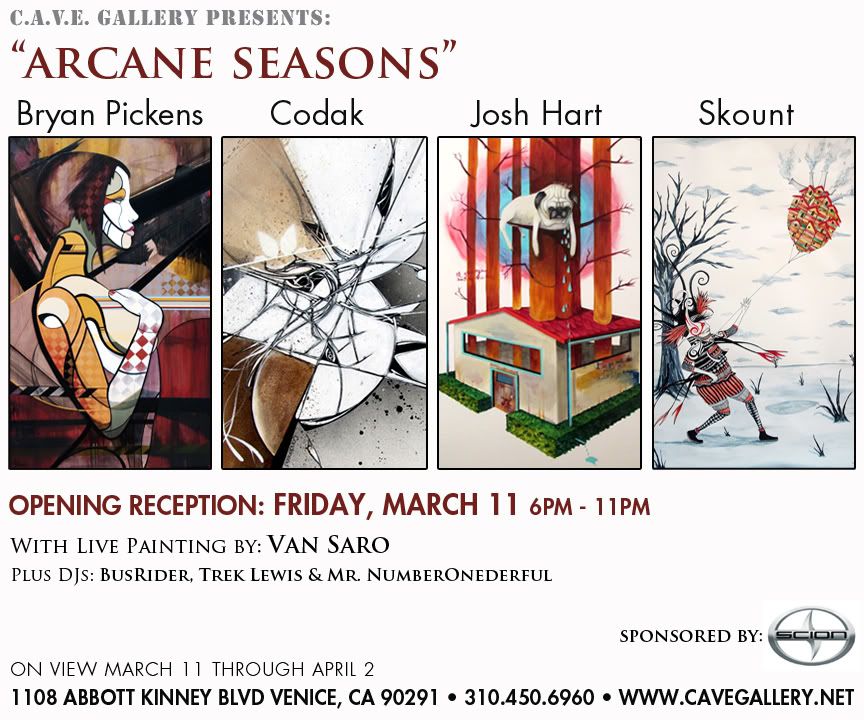 (Venice, CA) C.A.V.E. Gallery presents "Arcane Seasons", featuring new works by:
Bryan Pickens (Visalia, CA), Codak (Los Angeles) Josh Hart (Los Angeles) and
Skount (Amsterdam).
This exhibition showcases a diversity of styles characterized by dynamic imagery created by abstract fluctuations and sharp lines, and expressive visual narratives capturing a moment in time. The introspection by the artists used to create each piece exudes an inescapable subjectivity that holds the essence to the piece, while at the same time bestowing the viewer with a catalyst for self-reflection.
Skount
and
Codak
, both prolific and respected street artists, have transferred the spontaneity used to create their large scale urban installations into their new canvas paintings - expressing the same freedom as their iconic street work.
Josh Hart
and
Bryan Pickens
work with the smooth natural surface of wood for their introspective pieces, allowing the organic material to envelope their colorful imagery in a comforting but raw balance.
Collectively the exhibition is an impressive series of fresh, eye-catching styles, inspired by an observation of the things external to one-self and personal encounters that influence our thoughts and constitute the changing seasons of time.
C.A.V.E. Gallery is located at 1108 Abbot Kinney Blvd, Venice CA 90291
Hours: Wednesday - Sunday 12pm - 6pm
For additional information:
info@cavegallery.net
(310) 450 6960
Website:
www.cavegallery.net